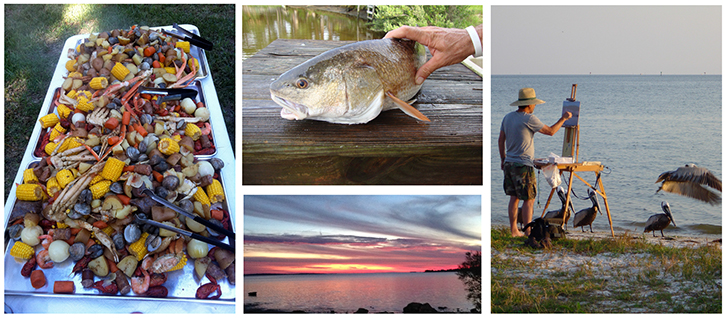 Cedar Key, My Hometown
Cedar Key sits almost three miles off the West central Florida mainland, with a string of four bridges to get you to "downtown."
If you've been to Cedar Key before, you have experienced the "old Florida" lifestyle we continue to enjoy here.
If not, you are in for a real treat! Living in Cedar Key is like a trip back in time, when life was simpler and moved more slowly. For instance, Cedar Key is a pedestrian town--everything is within walking distance of "downtown." And no worries--downtown for us doesn't mean stoplights, high-rise buildings or traffic challenges! Our charming downtown is about 10 square blocks--dotted with restaurants and shops, our library, a market, an auto repair shop, our City Hall, a few offices, small hotels, our marina, several churches, our City Park, our fire station, a couple of banks, a bakery, a hair salon, a hardware store, a public pier, a museum and a doughnut shop! If it sounds a little like "Leave it to Beaver," believe me, that's pretty much where we are! And I should know...I've been living in it for more than half a century!
Of course, we are not completely out of touch with the 21st century. We have high-speed internet service, cable television, cell service, FedEx, Sea-Tow, and ATMs. We have simply continued to resist the large-scale development which has begun to take over many other areas and squeeze out the sense of community.
We even have a local school, where all students from pre-kindergarten through 12th grade learn on one campus. For years Cedar Key School earned the title of being the smallest public high school in Florida. Our school has been kept afloat financially by what was originally the "Isolated Schools Bill" in 1981, which has since provided additional funding to small schools more than 28 miles from other schools.
Speaking of children--most love to ride around in golf carts, which can be used on our city streets, (as long as you don't take them onto State Road 24). Does this give you an idea of the speed of things on the island?
And on the subject of speed, for the most part we operate on what we call "island time." Though not exact, it's close enough for jazz.
I've covered a few topics here, but if you have time for more, just stop by the Cedar Key Realty office, located at 574 2nd Street, and I'll be glad to help!
Vanessa :)